Frequently Asked Questions:
1.
What are your shipping policies?
We offer Free Shipping on all of our flip caps.
We ship within 1-2 business days and will email you a tracking number.
1 hat will be shipped USPS First Class Mail (2 to 5 days).
2 -10 hats will be shipped USPS Priority Mail (2 to 3 days).
12 or more hats will be shipped via UPS or Fed Ex (2 to 5 days).
2.
Is your website secure? Is my credit card information safe?
All of our e-commerce software is provided by BigCommerce, which provides Level 1 PCI compliant hosting. This compliance with the Payment Card Industry Data Security Standard indicates that BigCommerce goes to great lengths to protect your credit card data and prevent fraud. Rest assured your data is secure.
3.
How does it work

?

Separate Bills. Then bend the bottom bill until the top bill pops up and locks into place.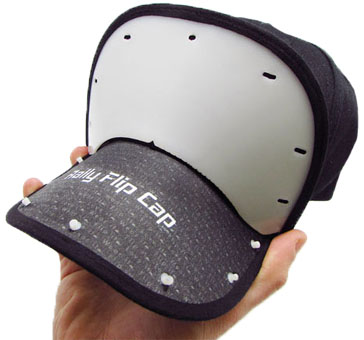 All of our dry erase hats have a dry erase board on the underside of the top bill. When not in use, you simply snap it shut along the hat's main structure.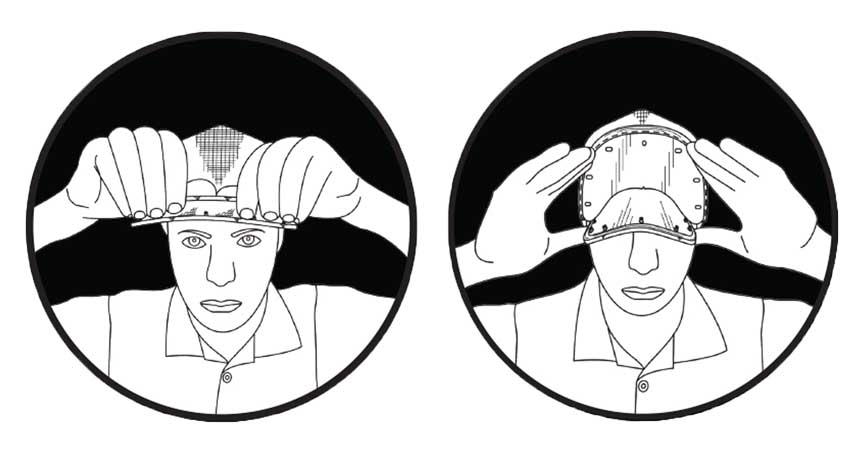 4. What is a Rally Flip Cap

®

?
Rally Flip Caps are double-billed hats with a flip-up feature. Our Flip Caps are more versatile than your average hat.
The Dry Erase version features a dry erase board and comes with a dry erase marker. Our Classic version has a micro fiber fabric with slogans, phrases, and other designs we are able to customize with private label flip caps.

* These blank models are 1st generation Rally Flip Caps.

5.
How do I properly clean the Dry Erase Board?
For thorough cleaning we suggest using rubbing alcohol with a clean, soft cloth or towel to keep the dry erase board surface looking new. Do not spray or put rubbing alcohol directly onto the dry erase board surface. Try not to allow your dry erase marker ink to remain on the dry erase board for more than 48 hours without erasing. Alternative cleaners include hand sanitizer or other alcohol based cleaning supplies.

Here is a tutorial of how to properly clean a dry erase board.
6.
What types of payment do you accept?
We accept the following credit cards: Visa, Mastercard, Discover and American Express. We can always send you an invoice through Pay-Pal.
7.
Is it Patented?
We have a utility USA patent and a China patent. Also we have multiple design patents pending.
8.
I have more than one promotion code, can I use them both?
Only one promotional deal or coupon code can be used at a time.
9.
How long does it take to receive my product?
It will usually take between 2-5 business days for domestic orders via usps. International orders may take between 7-14 business days depending on which country we're shipping too, as well as each country's customs policy. We will supply you with a tracking number upon processing shipment.
10.
What is the warranty?
We offer a 30 day warranty. The customer may return the hat within 30 days of the purchase date in the original unused, unworn condition with the tags still attached. Hat must not be worn, damaged, or washed. Please include receipt with your return. If there is a defect please call our office in Torrance California (310) 326-9300 to report and we will provide you with customer service. If any ordered products have been damaged during transit, the customer must notify Rally Flip Cap® of the damages by phone within twelve (12) hours of delivery. Only the damaged products will be replaced. The replacement products will be shipped via FedEx or UPS standard ground. Rush or express shipping costs are not covered by this warranty.
11.
Do you ship Internationally
Yes, we ship internationally. The minimum order quantity for International orders is 24 pcs. Additional fees will apply, depending on where we are having your product shipped. Other fees such as Customs Clearance need to be taken into account when shipping Internationally. We may be able to send you an invoice through Pay-Pal if you want to purchase from another country.
12.

Do I get cheaper pricing if i buy more products
?
Yes, the more Rally Flip Caps you buy the better the pricing, please email info@rallyflipcap.com
13.
What logo/photo formats do you accept for custom printing within the top and bottom bills?
We prefer to receive vector images (Illustrator or high res .PDF) for printing. We will also accept high resolution (300 dpi minimum) JPG, PNG, EPS, PSD or TIFF files.
14.
Do you customize products with a business name or logo?
Yes. Please contact us for details on pricing, production times and delivery. We have great customer service and many satisfied customers!
15.
Do you
Private Label custom flip cap orders or can I purchase existing skus for resale?
Yes, we private label and wholesale our product. Please fill out our contact form and provide your detailed questions and concerns along with your specifications.
16.
Where
is Rally Flip Cap located?
Rally Flip Cap® is a product developed by Cisco Sales Corp. located in Torrance, California.
17.
30 Day Money Back Guarantee
If you're not satisfied with our product for any reason then you may return it for a full refund so long as you pay to ship it back to us within 30 days.
You may return items within 30 days of delivery date with tags in tact for a full refund. The hat must not be damaged, worn, or washed. Please include your receipt upon shipping your returned item.
18.
Have a random question?
Please Email us at info@rallyflipcap.com and we will be happy to answer it. No questions are stupid questions.