Oh no! An experiment in our Laboratory went wrong and now a bunch of Flip Caps are radioactive. Please help Lil Rally collect all the Green and Camo radioactive flip caps! Watch out for the evil red ones, they will kill you. May the odds be ever in your favor.
Holiday Giveaway Rules:
1. Follow our Instagram @RallyFlipCap
2. Comment if you've been Naughty or Nice and tag 3 friends on our Instagram @RallyFlipCap post from Wednesday Dec. 13th.
3. The 5 people with the highest score will win a free Rally Flip Cap of their choice.

4. Take a screen shot of your score and email it to info@rallyflipcap.com
5. The 5 individual Players with the highest score will be emailed and announced on Monday Dec. 18th

The 5 individual winners have to live in the USA. Click the picture below to start playing. To Jump, use your mouse to click, finger to tap or the up arrow. Have fun and good luck.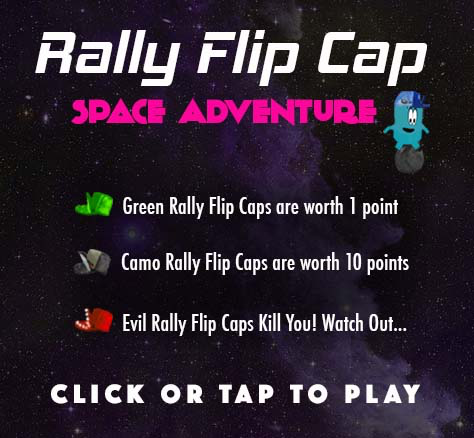 Artwork by Ian Kay
Music by Falcor
Go to Zenva Academy if you want to learn how to make games like this!